You've already seen the raves blowing up your Instagram screen. Automata may have only opened recently in Chippendale, but the restaurant is already straight-out-of-the gate awesome. It's like an incredible time-lapse trick, the way Clayton Wells' solo venture for The Old Clare Hotel has fast-tracked itself to greatness so quickly.
My friend Shannon even announced that it was a "game-changer – like Ester or ACME", and, to be honest, before I'd been to Automata, I gave his effusive praise a bit of a write-down – even though I was (and am!) a big fan of Clayton's work and had expectations dialled pretty high for what Automata would achieve, I had to level that out with the fact that Shannon handles PR for Clayton's restaurant and so rescaled his mega-watt acclaim accordingly. But having been, I totally renounce any skepticism. Automata is unbelievably great – and Shannon is spot on. It's the kind of restaurant that instantly hits the next level of Sydney dining.
Maybe that's no surprise, given the long, long drumroll that preceded its debut. Originally slated for March this year, the restaurant (like the other openings at The Old Clare Hotel, Silvereye and Kensington Street Social) was delayed by issues relating to the build. The discovery of an old 2.5 tonne safe at Automata's site was just one of the problems that slowed things down. (The relic could only be excavated after a wall was partly removed, and then the old clunker had to be lifted out with a crane – upside, more room in the restaurant for wine.)
In the meantime, momentum became hyper-changed. Nearly every chef I interviewed in the last year for my podcast has mentioned how keyed up they are about Automata's opening. Starting with Ume's Kerby Craig (way back in November), the cheer squad for Clayton's restaurant is high-grade impressive: expressing mega excitement about Automata's scheduled arrival were Merivale's Dan Hong, all round multi-tasking legend Andrew Levins, ACME's Mitch Orr, Waterman Lobster Co.'s Matt Swieboda and Hartsyard's Gregory Llewellyn, who said Automata was "built for success".
(The delay in Automata's opening also left us time to debate how to properly pronounce the venue's name – my favourite examples are from The Mitchen podcast, which gave us the suggestions 'Dan The Automator', from episode 1, and 'Auto-Tomato', from episode 6.)
There have been several teasers for Automata prior to its opening, such as Clayton's guest lunches at LuMi and Sixpenny and the restaurant's first-ever incarnation – as a street stall at the Beams arts festival/block party last September. Automata has since had a pretty swish upgrade, from a flapping tent to its current state – sleek heritage-listed industrial digs.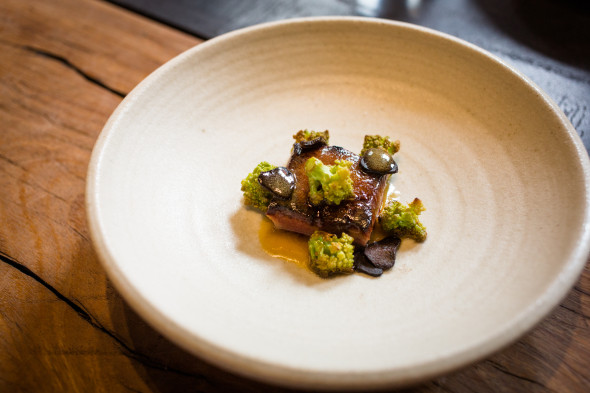 Clayton worked closely with designer Matt Darwon (Matt Machine), from the very start about how Automata would look. And when I first heard about the mechanical theme of the interiors, I worried it'd evoke being trapped between the frames of an intense steampunk graphic novel or the fantasy of someone who liked spending time in garage workshops way too much. But the raw look is mainly stripped back, with timber and neon stripes softening the concrete palette and a warm bank of light streaming through the windows that glide right up to the six-metre ceilings. There are cool industrial lights – such as a chandelier made from an old aircraft radial engine on the mezzanine level and piston lamps by The Rag and Bone Man – but the mechanical theme doesn't gatecrash too far (for instance, you don't end up eating off hubcaps or anything over the top like that; the courses are beautifully served on tableware crafted by Cone 11 Ceramics in Victoria and Loh Lik Kian in Singapore).
But, what about the food, right?
We all knew that Clayton's menu would be worth supersized attention. After all, he'd demonstrated his talent as sous chef at Momofuku Seiobo and had been part of its blazing, three-hats-on-arrival opening. Racking up time at Quay, Tetsuya's and Noma prior to that is no shortcoming, either.
So, your appetite is in pretty fine care here. Automata is designed around five courses ($88), with dishes shape-shifting according to what's available or to make way for new experiments. Instead of an overly formal feel, it's pitched to be casual – but while 'casual' for some people might mean deep-diving into a bag of chips while binge-watching TV, Clayton's take on 'casual' is pretty spectacular.
For instance, his snack game is pretty damn strong. You might've seen your Instagram flood with gush (or enthusiastic emojis) about the Storm Clam with Rosemary Dashi, Cream and Dulse (a dish which Clayton first presented at Sixpenny) and the Fried Fish Skin with Yuzu Kosho.
And if you give advance notice that you're a vegetarian (do it when you book!), Automata will come up with some knockout options for you. (After all, at his previous restaurant, Momofuku Seiobo, Clayton and fellow sous chef Chase Lovecky were the ones who created all the veg-friendly alternatives.) At Automata, I had the Fried Wakame, crackly strips of ocean-evoking flavour dotted with yuzu kosho, and these brilliant cheesy sponges of Parmesan Tapioca that had a high-kick of Japanese mustard to them.
My first course is time-stoppingly good. In fact, it's flat-out one of the best things I've experienced this year. The savoury bass note of cherry tomato and wakame, flash-marinated with shiso dressing, gets hit with the spring-loaded sweetness of raspberry and rhubarb, and the way the flavours ring out against each other is so beguiling. It all sits in a cold broth made of seasoned kelp and is finished with a flourish of roasted konbu oil. The course is all summery harmonies. I love it.
(This reminds me of something I overheard Clayton saying when we were organising our booking – "I can't cook without seaweed!" – and definitely this versatile algae makes so many cameos throughout his menu; in particular, the Gourmet-Traveller-endorsed Steamed Hapuka and Cured Roe Emulsion that disappears under a cloud cover of laver.)
Like with the raspberry and tomato dish, what I love about Clayton's food is how it's colour-graded with such unexpected flavours – shades and tones you didn't know existed or are yet to develop a strong radar for.
For instance, the Asparagus Wrapped in Blanched Sesame Leaves that I'm served is brushed with umeboshi, topped with sea blite and ribbons of dulse seaweed, met with a dust storm of freeze-dried blackberry, and given a low-tide wash of Korean plum, white soy and cold-pressed white sesame oil. The layers in each dish are like subtle brushwork by a calligrapher – elegantly detailed strokes that add up to a mesmerising, beautifully constructed whole.
And I like how playing with such a full deck of flavours doesn't mean that a dish has to be noisy and over-detailed. Clayton's food can have so many hidden doors and surprise elements – and yet still end up quite subtle. His Pumpkin Seed Sorbet is proof: it has a matcha-like creaminess and is studded with pepitas and drizzled with a syrupy cold-pressed pumpkin seed oil. It sits on an island of Angostura bitters meringue that has been blowtorched and encrusted with freeze-dried mandarin. It's the very opposite of those big, sugar-loaded desserts that often blow out the end of a meal. And to finish, the syrup on the meringue is "made from a reduction of tangelo juice and sea buckthorn juice which I smuggled back from Finland when I went there a few months back!" says Clayton. (Everyone, keep Customs agents away from Automata until this dessert is gone!)
And sometimes Clayton will just air-drop big flavours, like Will's Inside Skirt Steak with punchy shiitake mushrooms, garlic-spiked eggplant puree, tamari and brown butter, or his Roasted Duck Hearts, teamed with the smoke and tartness of an onion puree created with onion ashes and sliced onions that have been pickled in malt vinegar, black garlic and thyme.
What I like about Automata is that Clayton has created a menu that does not have the safety switch on. Sure, variations of the Slow Roasted Quail (hidden under the camouflage gear of a witlof leaf) and the Hapuka appeared at his LuMi lunch, but the Smoked Eel dish and the vegetarian creations he just conjured pretty quickly (and recently). None of these items feel like they've come from a traceable template – in fact, they're so original and expectation-defying. Clayton's food has an amazing way of knocking you off-axis before you've even realised that you've lost your bearings or have no idea of the path you're on. It's the opposite of predictable.
Other things I'm a fan of at Automata – Clayton's playlist (which easily switches from Deltron 3030's very awesome Memory Loss to Mr Little Jeans to PJ Harvey), the A-team on the floor (which includes Abby Meinke, previously of Moon Park, and Tim Watkins, ex-Pilu), who are incredibly approachable, while being totally switched on and savvy and ready to guide you through the interesting list of drinks (from its Ttotaler teas and apricot tonic to its 'f–king organic wines').
And if Instagram hadn't clued you onto the dedicated following Automata has quickly scored, the seating arrangements might. When we were there for lunch, I ended up sitting next to Dan Hong (or 'Lord Hong' as my friend calls him), not too far from ACME's Ed Loveday and I spotted Luke Powell from LP's Quality Meats down the other end of the communal table we were on. Automata's devotees aren't just going to be well-regarded industry folks, though – this restaurant deserves a huge fanbase.
I hope my enthusiasm doesn't end up sounding hyper-inflated, but I'm massively impressed by what Clayton Wells is accomplishing at this venue. He's uncapping surprising flavours from a range of high-definition ingredients. (Maybe too strongly in the case of the Crème de Menthe Petits Fours, which are like a nuclear-level breath mint – you'll either love it, or you really, really won't.)
It's an incredibly smart menu – but there's nothing so coldly intelligent about what Clayton is doing; it's food that you get and revel in straight away.
So there's something unshakeably great about what's on offer here – Automata has a habit-forming hold on you. As soon as we got home, we booked in to go straight back. I feel like we're not the only ones who have been so strongly converted. The rest of Sydney might find it just as hard to fight the one-of-a-kind charm of Automata. It's definitely one of the best new restaurants to open this year (and my favourite of 2015, so far).

Automata, 5 Kensington Street, Chippendale NSw (02) 8277 8555, www.automata.com.au. Follow Automata on Instagram and Facebook.
Tags:
Automata
,
Chippendale
,
Momofuku Seiobo