Kingdom of Rice in Mascot is a best-of compilation of Cambodian food – as remastered by some familiar names from Acme. Mitch Orr, Cam Fairbairn, Lillia McCabe (back from Singapor...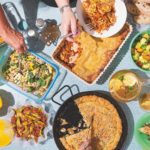 People actively smuggle Smith & Deli's food onto planes – that's how addictive the dishes are. Interstate regulars even bring their own Tupperware containers and ...
$10,099 – that's how much someone is asking for their copy of Christine Manfield's Tasting India cookbook on Amazon. Sure, India Today called it the book to give nati...
While I'm looking for a new job, I hope it's not too shameless to shill copies of my latest zine? I guess the theme is "work", so that makes it semi-appropr...