Saga in Enmore isn't just named after a pair of sneakers that Andrew Bowden (aka Andy Bowdy) bought for nearly a grand (blame shipping costs and unfriendly exchange rates for...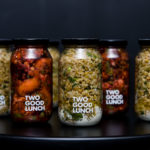 Rob Caslick has designed lights for the blind, been deployed to Iraq as a naval boarding officer (where he intercepted illegal vessels smuggling oil in the aftermath of September 1...
There's no shortage of proof that Attica in Melbourne is an astounding, standard-setting restaurant. It's still Australia's highest-ranked entry in the World̵...
Here's a new zine! It's an update of last year's The Unbearable Lightness of Being Hungry publication and I created it for the recent MCA Zine Fair. Consider it a...