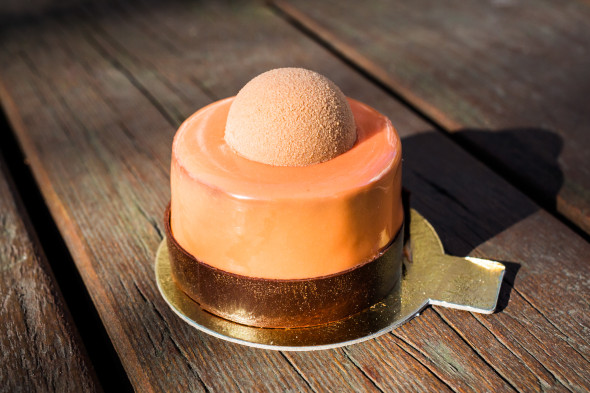 There are no boring diagrams or charts at Textbook Boulangerie-Patisserie in Alexandria – just sweets so good looking that they deserve their own catwalk. There's a Jaffa Cake ($8.50) that feels like a high-gloss, silken Chanel version of eating the choc-orange candy found in supermarket confectionery aisles – thanks to the satiny mandarin cremeux, airy milk-choc mousse, chocolate crunch and pain de gênes.
There's also a take on the classic Saint-Honoré ($7.50) and even an atheist would be on board with this raspberry-red and Chantilly-cream spectacular – a tribute to the patron saint of pastry chefs, and as extravagant as you'd expect for something in honour of a historic bishop.
The Vanilla, Strawberry & Mint ($8.50) is as sculptural, with architectural bands of white chocolate that curve around like the spiralling walkways of New York's Guggenheim Museum. From the top of its dome, a streak of strawberry spatters down like a Jackson Pollock drip painting. Inside is a vanilla-clean centre, hiding a seam of strawberry mint jelly.
One of my favourites is the Apple Crumble ($8.50), which resembles a Granny-Smith-coloured submarine. It's actually a good comparison, because this patisserie has basically weaponised the fruit and scored target-hitting success with poached cinnamon apple, speculaas crumble, apple custard mousse and Dulcey chocolate bavarois.
And if you prefer desserts that make border crossings into savoury territory, then the Caramelised Pear & Roasted Walnut ($7.50) is for you. It's actually a winter-perfect treat, with the caramelised pear chunks, a 'protective coating' of roasted walnut crumble, shiny white chocolate bavarois and a chocolate sable breton so good that this whole creation gets full marks just for the salty-sweet shortbread alone.
The patisserie display cabinet also includes more spectacular treats, from a White Chocolate, Mango, Kaffir Lime & Coconut Cake to a Lemon Meringue with Raspberry Compote. You can also upsize and get larger birthday-worthy creations or order one custom-made.
There are also croissants, Danish pastries, coffee from The Little Marionette, sandwiches, bread, hot snacks (from a Chicken Mushroom Truffle Pie to a Seasonal Vegetarian Quiche), and you will have to ask them, what, exactly is their "Cruffin Of The Week" ($4.50).
I've been looking forward to the opening of Textbook Boulangerie-Patisserie ever since Black Star Pastry's Christopher Thé mentioned it when I interviewed him for my podcast in June. He had worked with John Ralley before – who is one of the creative forces behind this new place. John had been on my radar from when I interviewed him a few years ago. He's a former roof tiler who went on to be twice-named Pastry Chef of the Year; I knew his imagination had zero limits, as he told me how he'd cruise the aisles of Bunnings for inventive ways to improve his desserts (he'd use pipes for sugar pieces and enlist paint guns for blasting chocolate).
With this new venture, he teams up with Steven Anderson, a self-confessed "bread geek", who worked with John back in 2001; they have wanted to open their own venture ever since. The duo has played the long game and it definitely has paid off. This venue only opened last week – and it's a no-brainer how good the desserts are here. Even if it's been a while since you were in school, I think this would be a Textbook you'd be be happy to hit.
Textbook Boulangerie-Patisserie, 274 Botany Road, Alexandria NSW (02) 9699 6156, textbookpatisserie.com.au. Follow Textbook Boulangerie Patisserie on Facebook or Instagram. 
Tags:
Alexandria
,
cake
,
patisserie
,
Textbook Boulanger-Patisserie