Tokyo is a one-of-a-kind city – a place that launches you to the outer limits of the hi-tech universe, while rewinding timelines so seamlessly that its reverence for slower-paced tradition and ceremony also trips you out.
It's one of my favourite capitals in the world, seemingly built on standard units of things I love: good food, art, architecture; an unabashed obsession with karaoke; and shops that seem to service any fixation you have – stationery, socks, confectionery, vintage cameras – to the maximum level. I also love the cultural emphasis on sneaking in thought and beauty into everything, whether it's an elegantly crafted spoon, a striking pattern adorning some throwaway chopstick wrappers or a philosophical one-liner printed on a paddle-pop stick for stirring tea in a fast-food restaurant (I noticed one stirrer that simply said, with endearing levels of poignancy and cheesiness, "call your old friend").
We went to Tokyo late last year – the first stop in a five-city holiday blitz over three weeks. So, our budget had to stretch far beyond our Japanese visit. We mainly stuck to places that were casual, fun, interesting – with the very occasional blowout meal. Here's where we ate …
Our first day began with a 6am arrival at Narita airport, followed by a three-hour train-hopping transit to drop off our bags, so our lunch hopes were pretty basic: a decent eatery that wouldn't flame out our zombie brains because of its difficult-to-find co-ordinates. Japan's address system is incredibly hard to untangle and, without having an ultra-detailed map on hand or the steady data drip of Google Maps to rely on, you can sometimes waste hours just circling a location you plan to visit – and still never hit the right entrance.
So I picked a place that I knew was unmissable; we would not be victim to "where is it?" frustration if the destination was monumental. We went to the Hikarie building, a giant development right by Shibuya station that I'd read about in Ebony's amazing (and indispensable) Hello Sandwich Tokyo Guide.
On the eighth floor is D47 Shokudo, which not only has a visitor-friendly view over Tokyo, but the menu is also a round-the-country trip in itself. The 47 in the restaurant's name refers to Japan's number of prefectures, so the teishoku (set meals) reflect this expansive border-crossing terrain, stretching from Nagasaki to Hokkaido.
I wasn't quick-witted enough to snap a shot of the English menu before it slipped out of our hands, so I can't offer any useful regional breakdown of what we had. All I can say is that – aside from the strangest salad I'd ever endured – everything we tried was straight-out delicious. If you savour the simplicity and micro-detail of flavour that really defines Japanese food, then you'll understand what made each dish memorable. Cold-pressed tofu with some shiso, minced ginger and soy was a pure, unbound delight.
Will's udon was loaded with chicken mince, a fairy-floss-like konbu with yuzu mustard (I think, they took away our English menus before I could vet my guess), some agar strands and a delicious mini jackpot of tofu and pickles (that's ignoramus me again with the menu guessing). As we sat there, the waitresses travelled from table to table, serving a delicious smoky tea. I regret not sleuthing out what kind it was and prying the right pack from the many varieties on sale to buy, so I could later reconnect this caffeinated memory to a dark, warm brew at home.
On the same floor as D47 Shokudo is a series of galleries, and a related design and travel shop that sells a bounty of regional ingredients, crafted cookware and a bunch of beautiful Japanese things that would normally contest my baggage limits (I only restrained because I knew we had many more cities and unforgiving airports to navigate after this). It's worth heading up to the 11th floor to gawk at the wide-sweeping view over Shibuya and inevitably wear out your batteries by snapping souvenir pics like crazy – trying to capture the enormity of Tokyo in the brief clicks of a camera.
D47 Shokudo, 8th floor, 2-21-1 Shibuya, Shibuya-ku, Tokyo, 03 6427 2303. Map and directions here.
One of my favourite areas in Tokyo is Shimokitazawa, which is in Grace's neighbourhood. We had the double fortune of Grace taking us to her favourite local izakaya, Totoshigure (where I'd first discovered my obsession with yuzu sake, many years earlier) and then Ebony booking us in at hers (Shirube, where the lively atmosphere included a waiter blazing through an air-guitar session that stopped us all – his 'happy birthday' shred solo for a customer was epic).
Totoshigure, 5-30-12, Daizawa, Setagaya-ku, Tokyo, 03 3419 6125. Map and directions here. Shirube, 2-18-2, Kitazawa, Setagaya-ku, Tokyo, 03 3413 3785. Map and directions here.
Also nearby is the truly awesome Kaiso bakery in Daizawa. I hit a record amount of smiles just being there and then doubled the grins after tearing through our warm bags of pastries on leaving.
Major credit to Grace for discovering this place. It's tiny, doesn't have a website and it took a few encore sessions of Grace's directions for us to make it to the right doorway. Grace's artworks of Kaiso are what made me love it first – but I especially wanted to visit after the head baker from Bourke Street Bakery in Alexandria, Paul Giddings, left a note there (which the owner shared with Grace, knowing she was from Sydney, too), explaining how he bought some fruit bread from Kaiso, ate most of it within 50 metres of exiting the bakery – and was so won over, he did an instant U-turn and walked straight back in to buy some more.
The 'Quatre Fromage' bialy at Kaiso counts for the most rewarding 250 yen ($2.65) I've spent in my life – four kinds of ultra-savoury cheese are smuggled into the hot doughy pocket of this volcano-shaped pastry, presenting the best delivery system for calcium that anyone has yet masterminded. It's rich, chewy, dense, warm – a jackpot to work through. And you may just need a mini salad from Lawson across the road to slow-mo the artery-clogging effect somewhat. But, worth it? Hell yes.
The Choco bun is also a little oven-baked miracle – it's like someone scatter-gunned bullets of warm, melty chocolate throughout the dough for maximum choc-to-pastry enjoyment. It's hard to dial down the gush, because this bakery really is filled with gems. As a local, Grace has had the luck of sampling more of its sweets than we have – and she raves about everything from the sultana bread with honey glaze (stick to one square only, for cool restraint; or get the four-in-a-row option for full pull-apart glory), tomato pizza, glace cherry biscuits and the hazelnut tarts. It's the sort of place where you can just name a pastry and the full weight of all the swoony exclamation marks that follow ("the four cheese bialy!!!!") is enough to convey how ridiculously good it is.
Because the store is tiny (as is its Google footprint), I asked Grace to repeat her directions (again!) for how to get to Kaiso. She says to …
Take the south exit at Shimokitazawa train station. You'll see McDonald's in front of you. Walk down the street (with Maccas on your left). Go past a bunch of shops and get to a small intersection. Keep walking kinda straight. You'll see 711 on the corner on the right. Walk past 711, down Chazawa Dori – keep walking till you see a Lawson convenience store on your left and a big peach sign after it. Kaiso is opposite that big peach sign, on Chazawa Dori.
Kaiso, 5-6-15 Daizawa, Setagaya-ku, Tokyo. The bakery is closed for certain days of the month (you can pick up a calendar, which indicates its days off, from the counter) – so you may want to call ahead if you're planning a visit, just in case: 03 6805 3131. Here's a map, too. 
Speaking of directions, I'm grateful for the bread-crumb-trail to T's TanTan ramen restaurant that's marked on the Mr & Mrs Vegan blog. JR Tokyo Station is overwhelmingly huge (trying to make sense of it even stresses the locals) – and the hunt for this ramen joint is made easier by the blog's how-to-get-there guidelines (basically – head in the direction of the Keiyo Line platform, look for Uniqlo once you get to the Keiyo Street shopping area; walk towards the New Days combini and information booth; turn to the right, go past the souvenir store and you'll spot T's Tan Tan nearby).
As a vego, I've had many sad, pointless vegetarian ramens in my time. Most are in the "don't bother" category. The best I've ever tried is actually via this recipe – by Kanou Kumiko and kindly translated by Bree Claffey, who runs the Mr Kitly homewares store in Melbourne (which specialises in beautiful Japanese things that will definitely test your baggage limits). It's one of my cold-weather staples – and the aromatic charge from frying ginger and leek in sesame oil for the ramen stock is one of those minor thrills that makes tending to the stove so vivid and worthwhile.
Ramen is often off-limits anyway, if you're vego, but I was interested in seeing what I could try in Tokyo. While I didn't find a place that served soy milk ramen (which is more of a Kyoto specialty anyway), we ended up at T's TanTan as it seemed to get the best endorsements via all the sites I scouted online. Not 10/10 perfect, but good enough to sate our party of hungry ramen hunters – including the meat-seeking dudes who hoped to try the David-Chang-endorsed Rokurinsha in the Ramen Alley section of Tokyo Station, but had to abort the mission, because the line was impossibly long.
T's TanTan, Keiyo Street, Tokyo Station, 1-9-1 Marunouchi, Chiyoda-ku, Tokyo, 03 3218 8040. There's a map in Japanese here, but the directions above should suffice if you're having trouble decoding your kanji.
I don't usually hang out in five-star hotels – they often remind me I'm just an income bracket tourist and could never stump up the 92,000 yen a night for a basic room. But our friend Tom suggested we meet up for drinks at The Imperial in Ginza. It was fun for the swishy service and the fact it wasn't the kind of thing we'd normally do. The unexpected (and incredibly grown-up) dosage of live piano-tinkering next to the bar only added to the surreal "why not?" nature of it.
Imperial Hotel, 1-1, Uchisaiwai-cho 1-chome, Chiyoda-ku, Tokyo, 03 3504 1111. Map and directions here.
Tom also took us to the brilliant Akomeya, which is exactly my kind of spot (and does not involve the multiple trips to an ATM that a five-star establishment might require). Our mutual friend Sophie had raved about this joint beforehand – "ask Tom to take you to the rice place!" – and there's always that great pay-off moment when you're at an eatery individually endorsed by several people you know, and you remember that all the lame trust exercises in the world can not match that multiple thrill of friends openly sharing their best discoveries with you. Akomeya specialises in rice (it stocks more than 6000 related products), so it's part bar (what is the magical ingredient in sake, after all?), part shop, part restaurant – and all kinds of overlapping fun if you love food. Like many Japanese establishments, Akomeya hyperfocuses on one thing, but this simplicity turns out to be its prize strength.
My favourite dish was the one above, which remains a mystery, because my flakey Japanese vocabulary wasn't robust enough to pin down the details. Imagine vegetables – full of bright, sweet, lively snap – seemingly flash-fossilised in light jelly. It was so brisk with flavour. You could even buy a take-home version of it from the store – and had we been heading straight back to Australia, I would've filled multiple shopping carts with it (and all the other specialty products on the shelves, too). The rice was actually served last – a bowl of soft, glossy gleams, rather than hard grains. We had cycled through quite a few dishes by then and couldn't finish, so the owner kindly took the leftover rice and packaged it into onigiri shapes for us to take home. The next night, we were rained in (a preview of the typhoon about to hit), so I made an extremely lo-fi version of cha zuke, by taking these rice triangles and letting them submerge in green tea. It was simple, stripped-back and incredibly satisfying.
Akomeya, 2-2-6 Ginza, Chuo-ku, Tokyo, 03 6758 0270. Map and directions here.
The cult of Muji does not need to be explained. You either are a high-level fan, or there's a massive Muji blind spot in your life. This ubiquitous store distills everything you love about Japan and turns it into elegantly designed merchandise that props its (fast-emptied) shelves. The only thing that can top a visit to its many shops is an extension trip to a Muji cafe.
We went to the Muji flagship in Yurakucho, not only because it's the biggest showroom in Tokyo (and houses every item available in the catalogue), but because it has a Cafe & Meal Muji canteen, too. There's way too much to choose from and there's a lot of guesswork involved in detecting what many of the pastries are, but the best advice I can offer is get the red bean croissants. I'm neither a fangirl for red bean or croissants, but I stuck to the script and ordered that bestselling item after I saw it namechecked on a blog or two. And it turns out to be unfathomably good. Everything I dislike about red bean – its mushiness, its cloying one-note flavour – gets impressively reformed by the flaky croissant. Bonus: this energy hit will power your marathon-browse through the Muji aisles.
Muji Yurakucho, 2-3F, 3-8-2 Marunouchi, Chiyoda, Tokyo, 03 5208 8241. Map and directions here.
World Breakfast Allday is undoubtedly a cute gimmick.
Covering a globe-spin of cuisines, this cafe takes the James Bond approach to eating.
Its country-hopping is much slower than the action montages of a Daniel Craig film, though. It focuses on one particular cuisine for a month or so at a time.
When we were there, Vietnam was the departure destination, with Finland as the next trip. Currently, the menu is opening the boarding gates to Bulgaria.
Sadly, we only had a brief stop-over at World Breakfast Allday (just long enough for a dessert and drink); hopefully next time, we can manage a long-haul visit. Incidentally, if you head here, it's worth dropping into the Watari-Um art gallery that's nearby. Also take a look at its On Sundays bookstore, which has some great postcards, excellent stationery and souvenirs worth their yen-consuming effect.
World Breakfast Allday, 3-1-23 Jingumae, Shibuya, Tokyo, 03 3401 0815. Map and directions here.
One of the most memorable meals I had in Tokyo was at Itosho, which has a star focus on vegetarian shojin ryori (Buddhist temple cuisine). That gorgeous dish above – tofu with green tea squares, ginger and many more rapidfire details that I missed – was such a moment-pausing starter. It was served with this simple but great broth of matsutake mushroom and yuzu that I could sip endlessly.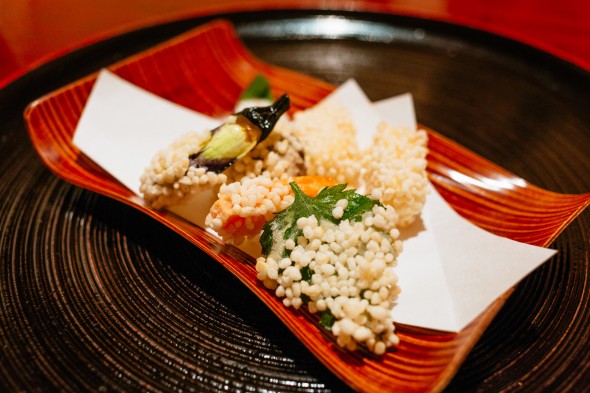 One of the highlights of the menu would be chef/owner Hiroharu Ito's version of tempura vegetables – instead of the overdone batter, the ingredients are studded in rice-flour "pebbles". The effect is like eating a lucky dip of crisp produce, covered in Rice Bubbles. It's excellent – his version should overtake the deep-fried staple and rule the whole universe.
Other dishes were more stripped back and simple – like this basket of nori-topped soba noodles.
And a glossy veg-thick soup.
You get a tatami-matted room to yourself and the decorative details are as refined and deeply thought-out as the well-crafted dishes on your table.
Particularly striking and beautifully sculpted was this final dish of sushi – each ingredient as vibrant and alive as the colours of the multi-coloured serving plate.
As much as I loved each moment of our lunch at Itosho, it was very humbling to see how incredibly grateful this chef was to serve us. Even after earning a Michelin star, even after running this restaurant for more than 30 years.
Itosho, 3-4-7 Azabu-Juban, Minato, Tokyo, 03 3454 6538. You'll need to book ahead. If calling from Australia, dial 00 11 + 81 + 3 + 3454 6538. Map and directions here.
One thing I love about travelling is being a mega-researching dork beforehand. I stacked up the guides, the bookmarks, the friends' recommendations; I scattered a confetti-drop of pins over Google Maps of places I wanted to frequent and banked up enough restaurant suggestions to service at least 12 trips, let alone just one.
I really enjoyed using the Where Chefs Eat app, which singles out all the establishments worth checking out. The recommendations are via 400+ great names (internationally: Ferran Adrià, Rene Redzepi, Christina Tosi, Gabrielle Hamilton; locally, Ben Greeno, Dan Hunter, Andrew McConnell to name a few experts you'd definitely trust with your appetite). The app spans major cities, such as Tokyo, New York and Paris; and the guide has good at-home value, too, with Australia-wide coverage.
This is how I found out about Tofuya-ukai Owada. Well, sort of … The Where Chefs Eat entry is actually for Shiba Tofuya-Ukai, but because they're both run by the same operators, share the same website, have similar-ish names and specialise in tofu – my brain kind of iced over and ended up organising a booking for Tofuya-ukai Owada by mistake. I felt particularly idiotic when I realised my mix-up just before the actual dinner: instead of reserving for the acclaimed restaurant in central Tokyo, I'd accidentally dispatched us to a mealtime at Hachioji – which is two train changes and a bus ride outside of the city.
I felt like the biggest dill on earth! But, these sheepish feelings were radically reversed by the time our dinner was over.
I loved Tofuya-ukai Owada. Every single detail of it – from the red glowing lanterns that softly beamed from the entrance and the tables adorned with most beautiful paper place mats I'd seen in my life, to every well-crafted morsel of food we tried. The realisation we'd ended up there by a total brain-fluke only added to the experience.
Like at Itosho, you score your own room and the rustle of nearby footsteps becomes a drumroll for the meticulous food that is about to be sent to your table. There are too many great dishes to zoom in on and pause for detail, but I'll mention some highlights …
While Will took the meat option, Grace and I had the tofu course (note, as we learnt the hard way, this does not mean the resulting menu is strictly vegetarian! Lucky for us, though, Grace was fluent enough to negotiate for the most vego-friendly alterations possible). Exposure to this mammoth amount of bean curd might seem like a turn-off to some; but when done this exquisitely, it would reform even the most fundamentalist tofu hater. The lightly garnished deep-fried tofu was a knockout – and while this top-billing ingredient endured many incarnations throughout the menu, sometimes it was the support-act element in a dish (the mochi skewers, the lotus root crisps) that would end up being the scene-stealer.
Even the simplest details would linger. This mushroom rice had no tricks to it, but it was perhaps the best rice I'd ever had in my life.
Tofuya-ukai Owada is set in Edo-style surrounds; it is ridiculously beautiful. All of it – the leaf-scattered pond that catches the moon's reflection, the elegant Torii gate, the spectacular abundance of lanterns, the astounding quiet and beauty, the cumulative 'wow' that rushes through you when you slowly register all of it … It truly is incredible.
This was definitely one of the blowout meals we had in Tokyo – but like Itosho (our other budget-busting experience), it was so breathtakingly worth it.
And even though I'd totally messed up the addresses initially, I was glad we got to see a part of Tokyo I'd never properly planned on encountering.
Tofuya-Ukai Owada, 2-18-10 Owada, Hachioji, Tokyo, 042 656 1028. I'd recommend making a booking in advance. Map and directions here.
Beyond the food: outside of mealtimes, there's a hell of a lot to love in Tokyo, too. As a stationery geek, it was compulsory for me to make baggage-straining trips to Loft, Ito-ya and Wrapple (above, where you can buy lots of food-friendly paper goods, too); thank you to Ebony for getting keyed up about craft punches, rubber stamps and MT tape along with me! There are also lots of great galleries (some mentioned in my previous post on Tokyo), and you may want to venture up to the Mori Art Museum, just for the accompanying view of the city (as pictured below – this is what we saw, from over 50 floors up; we spent an afternoon counting rainclouds and gathering umbrella-wielding courage, before facing the pre-typhoon weather). I also love all the cute clothes shops in Shimokitazawa, the next-level socks you can get at Tabio, and more. Will courted a few camera stores, too.
For research, I used Ebony's A+ Hello Sandwich Tokyo Guide, the Where Chefs Eat app, Time Out Tokyo, The Thousands Tokyo, and some sources I mention in my previous post on Tokyo. Also, I wish we'd had a chance to test out Jollygoo's Coffee Guide and visit Hiki's Uguisu homewares and gift shop! If we had infinitely more yen up our sleeves, it would've been awesome to dine at the hyper-acclaimed Les Créations de Narisawa, too. Lastly, while writing this up, I also came across the Tokyo Craft Guide, which is definitely on my "to buy" list next time I find myself with a ticket to Narita airport.
A trip is also defined by your friends and their next-level generosity in introducing you to favourite patches of their home town. So – a massive thank you to Grace, Ebony, Aziz and Tom for showing us your unique version of Tokyo, sharing your highlights, and reminding us of the endless ways you can be won over by this great city.
Tags:
Akomeya
,
D47 Shokudo
,
Hikarie
,
Itosho
,
Japan
,
Kaiso
,
Muji
,
Shimokitazawa
,
T's Tan Tan Ramen Restaurant
,
Tokyo
,
travel
,
vegetarian
,
World Breakfast All Day