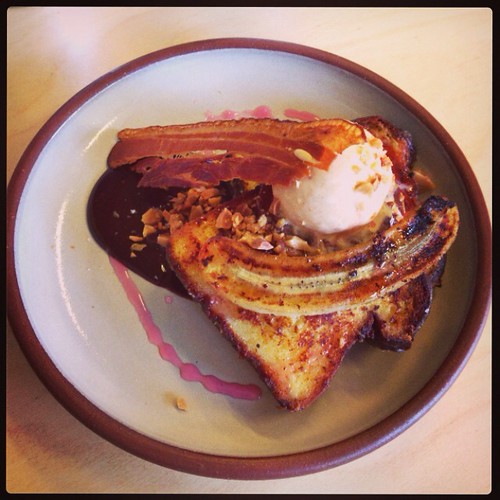 It doesn't take a lot of detective work to conclude that Devon Cafe in Surry Hills is worth a visit. It's only a few weeks old, but already has some gold-star credentials – the kitchen's run by chefs from Melbourne's Bistro Guillaume and Sydney's Guillaume of Bennelong, the coffee's by Coffee Alchemy and Five Senses, the design is the handiwork by Matt Woods (known for his diner-courting interiors at Bloodwood and Newtown Social Club) – and there are some long-distance adventures packed into its menu, too.
Here, you can zip to the borderline of France and Spain and try the Two Chicks In Basque ($14), with 63 degree eggs – that fancy, fine-dining staple – redone as a cafe dish, with rings of pistou, peppy piperade, dollops of goat's cheese and buttery grilled sourdough all conspiring to turn up the dish's comfort levels. Or you could max out on sugar and try the Little Lost Bread ($16): peanut butter and jelly brioche, caramelised banana, home-made peanut butter ice-cream, a little orbit of rhubarb jam and a constellation-scatter of nuts. It's excellent, and completely unsaintly (it reminds me of the guilt-free fun of American diner food). My serve came with a cameo of "surprise jamon" on top, which probably would've delighted almost anyone else (just not a long-time vegetarian).
Or you could take a short-haul trip to Asia for breakfast and order black rice pudding with coconut cream, palm sugar and banana for a tropic-evoking start to the day. For lunch, there are less exotic offerings, but sometimes a sambo loaded with roasted, herbed vegies and cheese is enough to keep you sated.
The staff members, led by owner Derek Puah (from Glebe's Wellco cafe), are all very eager and welcoming, and there's definitely a home-style feel throughout: from the food (with condiments and preserves crafted in-house) and the understated timber decor to the small edible garden out the back.
So add Devon Cafe to your (already long) list of pit stops when you're next in the 2010 neighbourhood.
76 Devonshire St, Surry Hills NSW (02) 9211 8777, www.devoncafe.com.au. Follow on Twitter and Facebook
Tags:
breakfast
,
Devon Cafe
,
Surry Hills